St. Patrick's Day Bingo at the Roscommon Center!!!!!!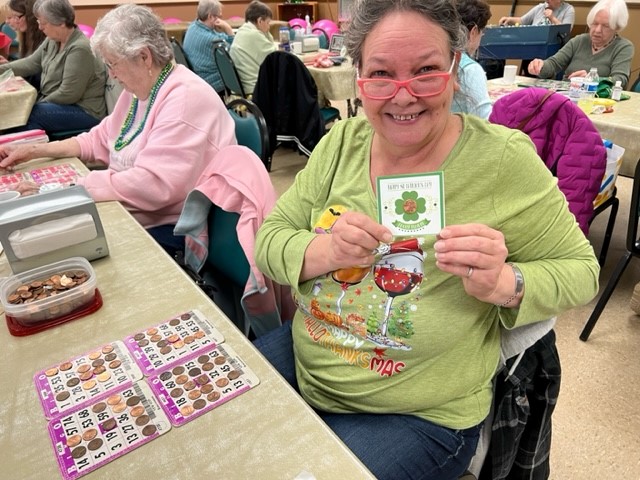 The Roscommon County Commission on Aging (RCCOA) and Jon Osim, Kitchens Coordinator for the RCCOA, would like to send out a Huge "THANK YOU" to Markey Tire and Auto!
On Friday February 24th, the RCCOA had multiple Meals-On-Wheels (MOW) drivers unable to drive, so the staff worked as a team and had other employees filling in for MOW routes. Everyone from kitchen staff to Chore and Administrative staff jumps in to ensure our home bound clients got the meals they need. Unfortunately, the weather conditions put our staff into some "slippery situations" and that is what happened to Jon on Friday. As he was pulling into a client's driveway his vehicle sank in the snow and he was unable to get myself out. Knowing that we have limited time to get meals to clients, time was of the essence.
Sometimes it takes a kind act from good hearted people to help you in life. Jon called in a favor to Rich and Phillip Pratt, father/son owners of Markey Tire and Auto to ask for assistance. Jon explained that he was stuck in the snow in a clients' driveway delivering meals and had to get out quickly to ensure he could finish the route, and everyone got meals. With no hesitation Phillip left work to come find Jon and help. Within ten minutes Phillip had his vehicle pulled out and ready to continue delivering meals. Jon said, "Thank you, you're a life saver Phillip! What do I owe you?" To which Phil responded, "Don't worry about it I'm glad I could help, go finish delivering meals and I'm going back to work (lol)". Phil and his dad expected anything in return, just good people with big hearts, happy to help! That is rare to find now a days. Without the care, compassion, and kindness of people like that in our community Jon may not have been able to finish delivering meals that day.
At the RCCOA our purpose is to promote the welfare, independence, safety, and health of our senior citizens through various programs. The Home Delivered Meals program, also known as Meals-On-Wheels (MOW), is one of the most important services we provide. Supplying nutrition to those in need is a top priority for not only our agency but the community as well. Roscommon County has a 42% population of persons 60 and older, some of which are potential clients in need.
This year's winter has recently shown us that mother nature dictates what we are able to accomplish. Our staff at the RCCOA has gone above and beyond to ensure that our clients are still receiving services throughout the toughest times of winter.
Thank you again Rich and Phillip Pratt and Markey Tire and Auto! We are so appreciative for the continued support from our community, helping RCCOA to be successful in service to our seniors.
Submitted by: Jon Osim – Kitchens Coordinator RCCOA
---
Check out the new kitchen equipment for the 3 centers!!
With the funds generated from the Tip Up Town elephant ear sales we were able to purchase some new kitchen equipment. Thank you to Doug Schmidt, Jay Jacobs, and The Houghton Lake Chamber of Commerce for this fundraiser opportunity. We look forward to working with them again in the future. Thank you to the community for their support and to those who worked hard and volunteered their time.
Pictured below: Bill, Becky Sue, Craig, Jon and Mary
Cardio Drumming Supplies has arrived at The Roscommon Center. Come out and join in on some exercise and fun!
Offered Mondays and Fridays at 1:00 pm Video
What a great turnout at The Roscommon Center for lunch.

Thank you MJ's for your generous donation to
the Serenity Day Lodge!

Loan Closet
We might have just what you need!
We have several items available in our loan closet. Our supply is constantly rotating as items are loaned out, and new items are donated. Check for items such as…
Walkers

Canes

Wheelchairs

Shower Chairs

Transfer Benches

Commodes

Incontinence Products

Other Miscellaneous Medical Supplies
There is no charge to borrow items from our Loan Closet. Donations are accepted and greatly appreciated. To check availability, please call (989) 366-0205