Check out all the Great Things that are Happening!!!
---


---

Winner, winner, chicken dinner! We held our Family Feud playoffs today at the Houghton Lake Center and drum roll please…. The Princesses representing Houghton Lake Center are our winners. The "Bingo Queens" representing our Roscommon Center and the "Bone Family" representing our St. Helen Center put on a fabulous feud.


---

Houghton Lake VFW Post 4034 recently presented the Roscommon County Commission on Aging (RCCOA) with four new American flags. The flags, which were presented to the RCCOA at no cost, will replace the aging flags at the Houghton Lake, Roscommon and St. Helen Senior Centers, in addition to the flag at the Administration building in Prudenville.
"All four flags were tattered", said Mary Fry "and we were looking to replace them. These flags are very important to our seniors and especially those seniors who are veterans" The VFW presented the flags at no cost to the COA, a nonprofit organization serving the senior citizens of Roscommon County. "This gift is greatly appreciated by both our clients and our staff", said Mary Fry.
County Commissioner, Marc Milburn serves on the RCCOA Board as a County Commission representative, has multiple military connections in the area, including VFW Post 4034. Fry asked Milburn if he could locate any flags that could be donated to the COA. The VFW did not hesitate, and gifted the flags for all four locations.
L-R: Mary T. Fry, Executive Director at the RCCOA, Earl Jones (VFW Representative), Tracy Constance, Board Chairman (RCCOA), Jerry Timmins (VFW Post Commander), Marc Milburn (RCCOA Board Member, County Commissioner and Veteran) and his son Warren.
---
Fun filled day in Alden! Good food, awesome little shops, art fair and lots of sunshine. Oh yeah I forgot the ice cream. Then guess where we went? Another great day trip with RCCOA. Everyone welcome 

💖


---
St. Helen Center had fun celebrating Mardi Gras!
"We are all stuffed" Becky said. To many Paczkis and Gumbo. 
---
Well, they did it again! 3 Valentine performances in 2 days! Thank You to the ladies of "Music in the Air" it was awesome♥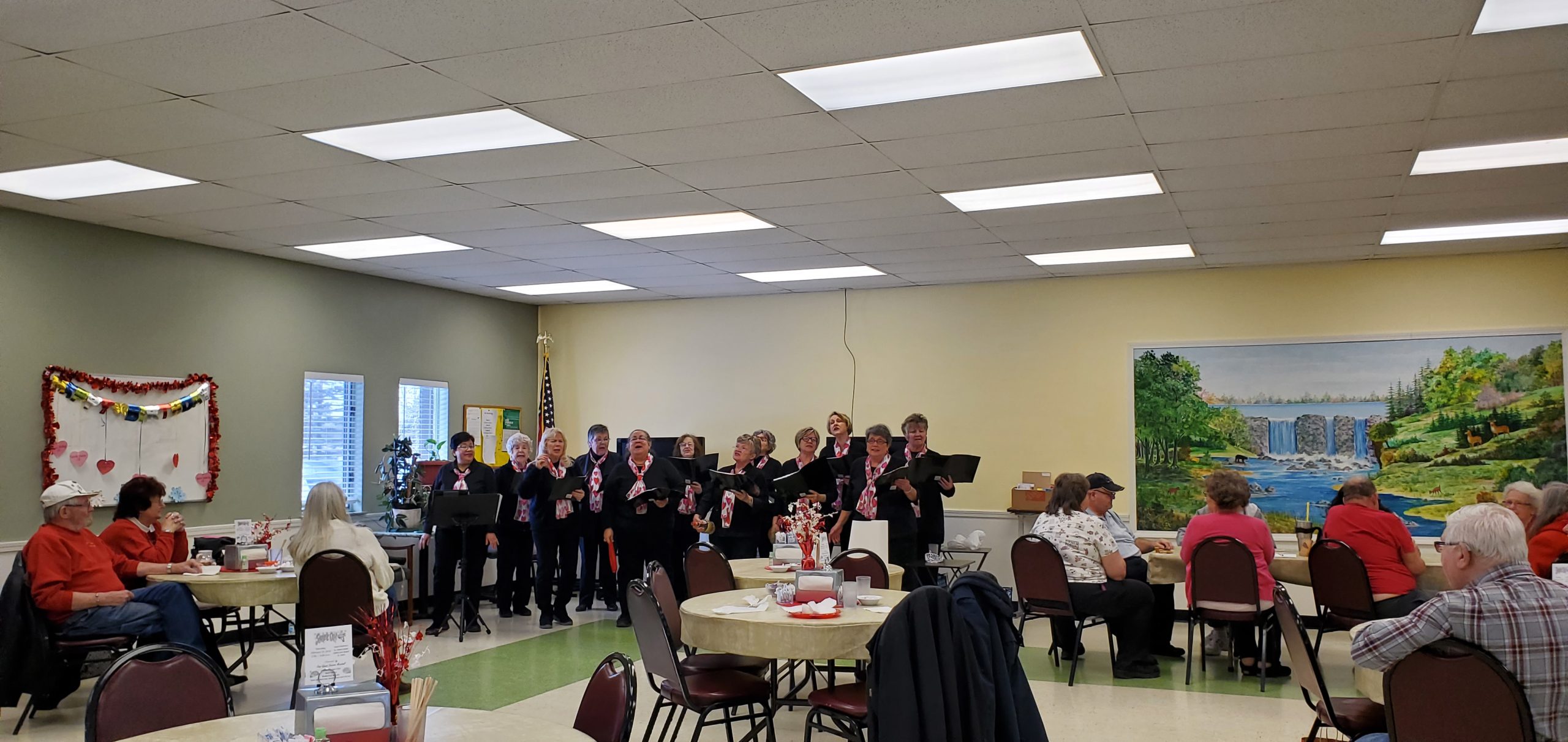 ---